Archive for '01 – Birthday Pursuit'
118 results.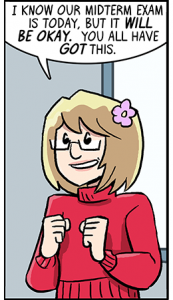 The subject of this month's first bonus strip is Alex!  Any patron can check out the strip over yonder, at the Dumbing of Age Patreon.
And remember, you can always pledge up to see tomorrow's strip a day early, every day!
Hey, I got my health insurance bill for the hernia surgery I got this summer, so, yo, if, uh, you want to buy stuff from me at my web store, that'd be really neato.
(it's not, like, a life-destroying bill or anything, aka don't worry about me, but i thought i'd drop the link anyway)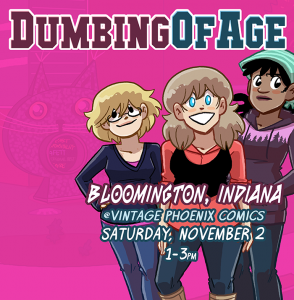 I'm coming back to Hallowed Dumbing of Age Ground, the lands of Bloomington, Indiana, next weekend!  Find me at Vintage Phoenix Comics, downtown, from 1-3pm on Saturday, November 2!  That's right, it's the afternoon, not the evening as per usual.  And it's a Saturday!  I'm shakin' stuff up.
I'll bring books and magnets!