Posts Tagged 'mike'
210 results.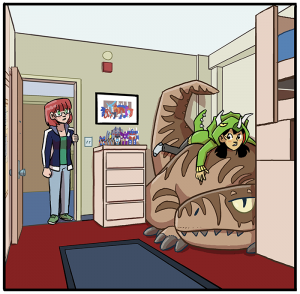 September's first Patreon bonus strip is about Dina's bed-sized plush velociraptor!  Because, like, obviously.  Are there even other characters?
Always remember you can pledge extra to see tomorrow's strip early every day!
Also, like, yo, I'm gonna be at Cartoon Crossroads Columbus (CXC) tomorrow and Sunday!  Come find me those two afternoons at table 26.
I'm returning to (okay I already live here) Columbus, Ohio, this weekend!  Cartoon Crossroads Columbus 2019 (CXC) is located within the dreamy halls of the Columbus Metro Library downtown, and you can find me at the upstairs exhibitor area on Saturday, September 28, from 11am-5pm, and Sunday, September 29 from 1pm to 5pm!
(yes, those are all the available exhibitor hours, i'm not skimping you)
(it's a pretty quick and breezy convention, i enjoy it)
I'll have books and magnets and myself at Table 26!