Posts Tagged 'roz'
57 results.
ANNOUNCEMENTS:
1) Dumbing of Age Book 2 (and Roomies! Book 2) are now available in the store for holiday season purchasings!
2) In ten days I'm going to be in Bloomington, Indiana, again!  Check me out at Vintage Phoenix Comics on November 20 from 5-8pm.
3) In roughly a month I'm going to be in Austin, Texas, again again again!  Webcomic Rampage will be super mighty and at Dragon's Lair's new super mighty location on December 6 through 8.  Here's the schedule of happenings!  Every webcomicker you like will be there.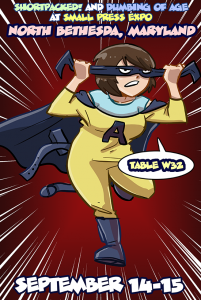 Next weekend,  y'all!:  SPX!  Maryland!  North Bethesda!  Table W32!  (That's against the wall on the… right-hand side as you enter, I believe?  I'm neighbor to Danielle Corsetto and Magnolia Porter.)
I will bring books, posters, some prints, and my ability to draw sketches for you.  I will have the tiniest number of Dumbing of Age Book 2s there for purchase, which I have had shipped quick-like for way too much money to be here early for this event.  (The rest of the books will likely get to me back home a week later.)