Posts Tagged 'robin'
89 results.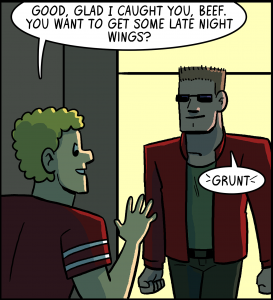 We were too in the thick of the Book 8 Kickstarter endgame for me to plug it at the time, but the second of March's Patreon bonus strips went live a few days ago!  It's about Tony and Beef!  You may remember them as "barely appearing in this webcomic" and "beating the crap out of each other currently in It's Walky! reruns."
Patreon bonus strips are viewable to patrons who pledge at any amount!  So if you're logged in, you can see it or any of the other dozens of bonus strips from months past.