Posts Tagged 'ross'
83 results.
I'm returning to (okay I already live here) Columbus, Ohio, this weekend!  Cartoon Crossroads Columbus 2019 (CXC) is located within the dreamy halls of the Columbus Metro Library downtown, and you can find me at the upstairs exhibitor area on Saturday, September 28, from 11am-5pm, and Sunday, September 29 from 1pm to 5pm!
(yes, those are all the available exhibitor hours, i'm not skimping you)
(it's a pretty quick and breezy convention, i enjoy it)
I'll have books and magnets and myself at Table 26!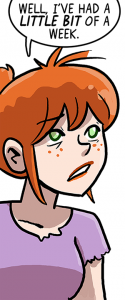 this month's patreon bonus strip is about penny, because she was voted for, even though she already had a bonus strip about how we'd seen the last of her, so here's more the last we'll see of penny
also you can pledge to see tomorrow's strip today, if that's a thing you like
in case you need music for those lyrics:
was waffling on whether to do the youtube link with or without the Passion gore porn
Oh, and in the interest of THOROUGHNESS, the song Joyce's church is singing was written in 2000, a few years after my time in regular church attendance, so here's the NINTEEN NINETY-EIGHT version that uses many of the same lyrics, adapted from a 1738 John Wesley hymn, performed by the acappella group Glad, which I'm more familiar with.