Posts Tagged 'amazi-girl'
91 results.
just so you know, specific commenters, that if in real life someone suddenly bursts out crying because of any kind of sexual trauma, and your immediate reaction is to say, yeah, i don't believe her, i think she just wants attention — you are actually the worst person on the planet
(doing it online regarding a fictional character, but in the midst of real life people who may have suffered similar, is only a little less worse)
so don't do that
as a heads up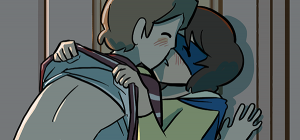 "Mask or No Mask," a whopping sixteen pages of new smutty content, is now up on Slipshine for those who subscribe!  (There are technically seventeen pages, but the final page is actually today's comic reshuffled.)  There is nakedness, parts touching, and a look into the psychology of Amber/Amazi-Girl.  That's right, the "mask" in the title is figurative, so, no, it's not hilarious to point out that it's "spoiled." /:)
This might be a little tacky for me to say, but I'm going to put this out there anyway — I draw fantastic pornography.