Archive for 'Book 02'
271 results.
Three or four weeks ago when I was drawing this comic and Maggie came up behind me and saw this panel, she asked me what in the fuck was I on.  That's when I knew this was going just how I'd planned.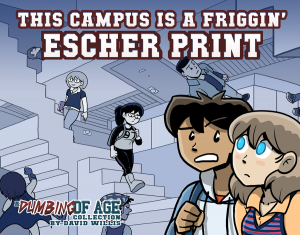 Hey, look, it's a sweet Dina poster!  It's printed on 11×17″ cardstock gloss paper, same as the ol' "Crisis" poster, and comes delivered to you in a large cardboard envelope.  Rarr!  Rarr indeed!
If you don't want the poster but want a version of the file suitable for desktop wallpaper purposes, that's an option, too.
Also, woo, Dumbing of Age Book 1 is also in the store now!  Order quickly if you want this around for Christmas.
From the frontpage blog: New stuff in the store!  There's Dumbing of Age book 1 and a new poster of Dina… and a dinosaur.
Like the last panel?  Here it is large and speechless on Tumblr.