Posts Tagged 'merch'
28 results.
Hey, some of you may know Josh Fruhlinger from his daily newspaper comic strip commentary at Comics Curmudgeon.  Well, now you can also know him from his United States President Slash Fic Blog, Hail to the Slash.  Josh commissioned art from me for the title!  I have provided the too-hot-for-blog extra slobber version to the left.  The full and final version of the graphic can be seen at the site itself, of course, as well as lots of stories about Presidents sodomizing each other.
I am still cranking out the 100 "Crisis" poster orders!  I have approximately 75 of them in the mail.  What complicates things is that this is also the week that my three literal tons of Dumbing of Age book 1 and Shortpacked! book 1 reprints arrived!  (See top image!) And so I'm also working on those at an equally furious pace.  I will probably have… 100 of them ready to go out the door to the post office on Monday?  That is out of roughly 600 orders, so please bear with me.  Those first 100 are from the folks who didn't ask for any extras, since I wanted to get a huge chunk of them ready to be mailed as soon as possible — you know, to get some feeling of immediate accomplishment.  Just throwing books in postage pre-paid envelopes and slapping labels on.  It'll be much slower going once I hit the international orders and folks who pledged for sketches.
So I'll be keeping busy for a while.  And probably be rewatching a lot of DVDs while creating more stacks of enveloped books like the ones on the right.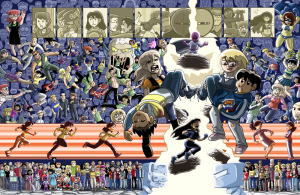 A week from Monday, on September 10, I will have been doing webcomics for fifteen years.  Dumbing of Age will also be celebrating its second birthday!  To celebrate this milestone, I have put together a limited poster!   Suffice to say, it's the busiest thing I have ever drawn in my life.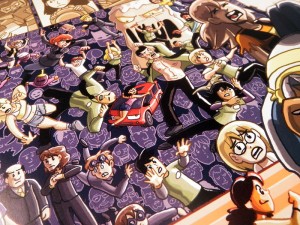 A while ago, Joel Watson was all,  hey, you should do a parody of Superboy Prime punching the universe and all the pieces scattering into the Walkyverse and the Dumbiverse.  That'd be a poster you can do.  And it was a fine idea, but it wasn't "all-encompassing work of horror" enough for me.  I needed something that would take me a month to complete.  And so I've parodied a different, better crisis instead.
As a result, every character who's ever appeared in one of my webcomics is in this thing.  I poured through my own archives day by day, grabbing folks to squeeze in here.  Some of them are pretty in your face.  Some may be less obvious, but still pretty easy to find.  Some may be essentially unrecognizable mostly-obscured heads in the background.  But they're all here.  And there's both Walkyverse and Dumbiverse versions of everybody.  (You can probably tell where the split in the composition takes place.)
It's an 11″x17″ slab of cardstock gloss craziness, and there's only 50 100 of them.  I'll number and autograph them all.  If you want one, here it is in the store.
UPDATE: I woke up this morning to find I'd sold seventy of my fifty posters, so, uh, I just ordered a second 50.
UPDATE AGAIN: They're gone!  Sold out in 23.5 hours.  Woof!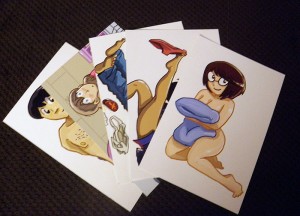 A few weeks ago on Tumblr, me and Starline and Randy had a "pin-up week" where we drew our characters as sexy pin-ups.  I got mine printed just in time to sell as double-sided post cards at San Diego Comic-Con, and I have some leftovers to sell to you, the public!
If you want to see the original pin-ups, they are archived at my DeviantArt account.
There are five post cards with a pin-up on each side, for a total of ten pin-ups.  The set comes with SarahJoyce/Ruth, Walky/Dorothy, Sal/Billie, Ethan/Jason, and Amber/Mike.  Find them in the store!

I got a two copies each of DoA Book 1 and the Shortpacked! Book 1 reprint from my publisher today.  THEY ARE FANTASTIC OH MY GOD.  Especially Dumbing of Age.  It is the best book I have ever done, ever.  I want to lick it.  And I probably could.  This thing feels waterproof.
I can't wait until I get the full shipment of these in about a month or so, so you can have them, too.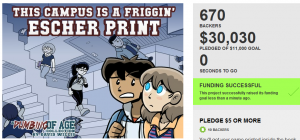 Man, you guys are super awesome.  We had an original goal of $11,000 to print DoA Book 1, passed that in a few days, passed our stretch goal of $20k to reprint Shortpacked! Book 1, and within a second of the end of the Kickstarter, we'd hit $30k.
Originally I'd set another stretch goal for $30k, promising to print Roomies! Book 2 if that happened, but a few days ago I realized I'd gotten soooo many pledges I needed to print more books, and would have to cannibalize some of those funds to print more.  But since we passed $30 anyway, I'll see how much money I have after the dust settles (you know, Kickstarter fees, Amazon payment fees, taxes) and see if we can't do it anyway.  I'll keep you posted.
There was a very sweet moment, like 4 minutes until the end of the Kickstarter period, where we had 666 backers.  And then some jerks had to ruin it by giving me more money!  Oh well.
But wow.  670 backers.  Last year's Kickstarter for Shortpacked! Book 4 only had about 250 backers.  This, uh, kind of triples the amount of books I've ever sent out, ever.  This will be daunting.  Please have patience with me once these books arrive in my possession, for I am but one dude, and you are legion.
Time to gather your names and submit the final DoA book PDF for printing!  We have done good.
The big box landed on our porch early this morning. These "Touchdown" posters are super pretty. Look at the image on the left and check out how thick the paper is! You can see the damn edge.
I put ten of them in the mail today. Look for a big thick envelope in your postbox soon, if you're a lucky orderer. And those of you who opted to upgrade for the additional sketch, you'll find that in there, too!  I created them with pencil, brush marker, and love.
There are some "Touchdown" posters remaining (they are limited to 50 pieces), so get to the store before they're gone! Not only do you get some sweet art, but you help me and my wife afford a nice trip together.  I will be forever grateful.  She'll be forever gratefuller.
(And if  you don't want a physical piece of art, there's also a cheaper desktop wallpaper option available.)
First, a reminder that I'm going to be in Austin, Texas, this weekend for Webcomic Rampage!  Click the bolded link to the left for more info.
Some of my favorite webcomics people and myself thought it'd be helpful to put together a shopping list of Items of Interest for the webcomics lover in your family.  This Christmas, give the gift of, let's face it, mostly fart jokes.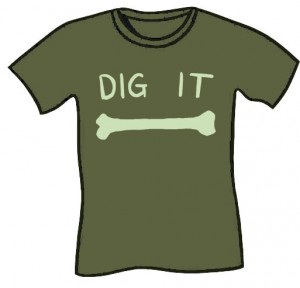 It's a t-shirt you can buy!  Why?  Well, I figured why not.  I mean, seriously. Since my t-shirt folks do print-to-order, if a design is simple enough, I can just throw it up on the Intermanets in a few minutes and see if anybody cares.
Plus who wouldn't want a shirt that may or may not be about boners?
(Fun story.  I designed the t-shirt for Dina in the strip thinking it would genuinely be about paleontology, but after 24 hours passed, I realized there might be unintended multiple meanings.  Which is real progress for me, because these bone-related accidental double entendres used to pass me by unawares.)
I think Dina has about as many appearances as she does items of merchandise.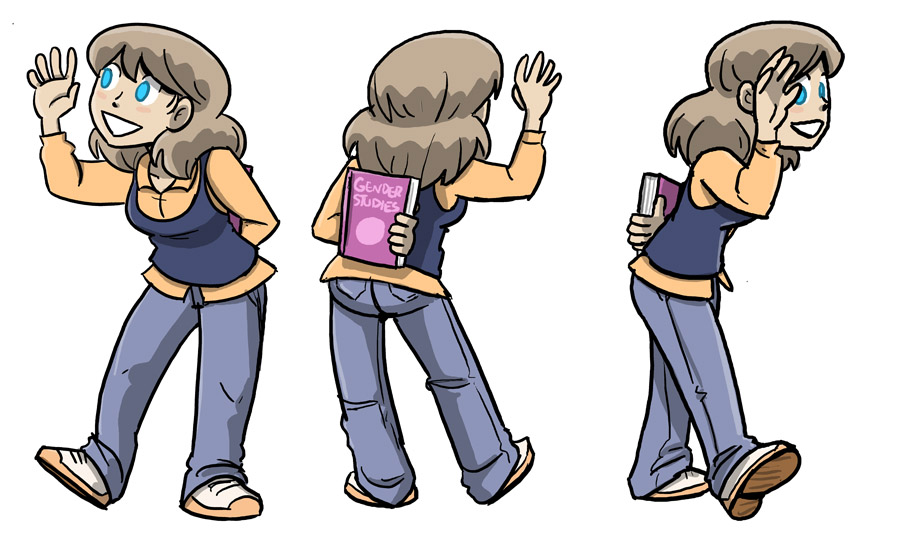 Here's the Joyce statue design I'd settled on.  The striped shirt won the poll, but I asked and it wasn't cost effective to have something like that be handpainted on buttloads of statues.  Thankfully, the nearly-equally-popular second choice was something with solid colors.  So that decided that.  (Likewise, I can't guarantee the book will actually say "Gender Studies" on it on the final statue.   That'd be a pain to hand paint at such a small size.)
She is not intended to be compatible with the Shortpacked! statues.  Why?  Well, something I kind of dropped the ball on back when I started the old statues was not thinking to make them 6″ scale.  It's a popular scale.  Who wouldn't want their statue to be able to plausibly hang out with Batman or Spider-man or the Ghostbusters?  And I was locked in it for the original statues once Amber was made, but since this is a new series and a new continuity, I let myself make Joyce (and possible later DoA characters) this preferred scale.
For those of you who are unfamiliar with the Patch Together statue process, here's how it works.  Right now, the Joyce statue is starting the voting stage.  If it receives enough votes, it will get produced!  If it gets produced, then preorders will go up, a statue will get prototyped, I'll help the Patch Together guys refine the statue until I think it's perfect, and then after the preorder period is over, everyone's cards get charged and Patch Together mails you your statue.  The number of statues produced depends strongly on how many are preordered.  PT tends to make ten or so beyond the number of statues preordered, but the best way to guarantee you get one (or that they'll be produced to begin with) is to preorder one.
But that's not exactly pertinent yet.  Right now, all you have to do is vote.