on
March 7, 2012
at
6:44 pm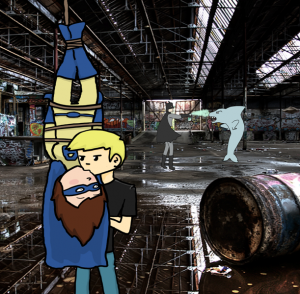 Moonracer191 has given us a very interesting Amazi-Girl x Mike piece.  Amazi-Girl is tied up while hanging upside-down, and Mike's reluctantly smooching her.  I say reluctantly, because his arms are folded.  He's pretty casual about this.
Meanwhile, in the background Batman's attacking a shark with shark repellent spray.  Of course he is!
This must have been one crazy night at the warehouse.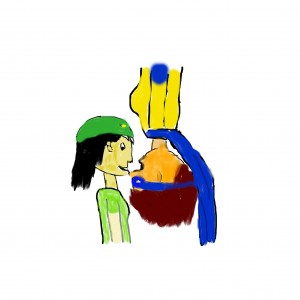 Keeping with our "Amazi-Girl smooching upside-down" theme, David sends us this one of Amazi-Girl x Dina.  Longtime readers of mine will remember that Dina's pretty good with hanging folks upside-down with rope.  Either that's what David's getting at, or he just wants to see Dina and Amazi-Girl do sloppy make-outs in the rain.  Either is fine by me.